My Crypto Heroes is a strategy game built on the Ethereum blockchain. In it, you'll be able to play historical characters, go in search of rare items, and fight other players for rewards and glory.
Blockchain games: what are they?
In terms of gameplay, blockchain games are very similar to regular games. For example, they also require downloading and registering an account. However, the fundamental difference is that all actions are performed on the blockchain.
For example, in order to buy, sell and store in-game items in blockchain games, players must have a cryptocurrency wallet. In addition, a browser will also be required to play such games.
The server side of blockchain games is also different from the server side of computer games. For example, blockchain games are decentralized and stored in various separate data centers around the world.
Blockchain and cryptocurrency-based games can be considered more decentralized, secure, and innovative because of this decentralization and the use of wallets. Blockchain-based games also make it easier for players to invest in games through NFT – investing in traditional games is much harder.
By the way, if you're interested in cryptocurrency games, you probably own a certain amount of coins yourself. If so, we would like to suggest you try this cool Bitcoin mixer.
It will allow you to stay anonymous and confidential. If you have any questions about an operation in the vein of "Do you have mirrors in TOR network?" you can get the answers in the FAQ at YoMix.io.
My Crypto Heroes – what is this game about?
In My Crypto Heroes, you will be upgrading your characters, each of which is a reference to a real-life person. In the game, you will be capable of finding Leonardo da Vinci, Napoleon, Einstein, Billy the Kid, and others.
There is also a class system in My Crypto Heroes. Each of these personalities is divided into warriors, farmers, merchants, and craftsmen. My Crypto Heroes has two modes: PvE and PvP, which is really cool for a game that is made on the blockchain. Usually, you only find PvE in such titles.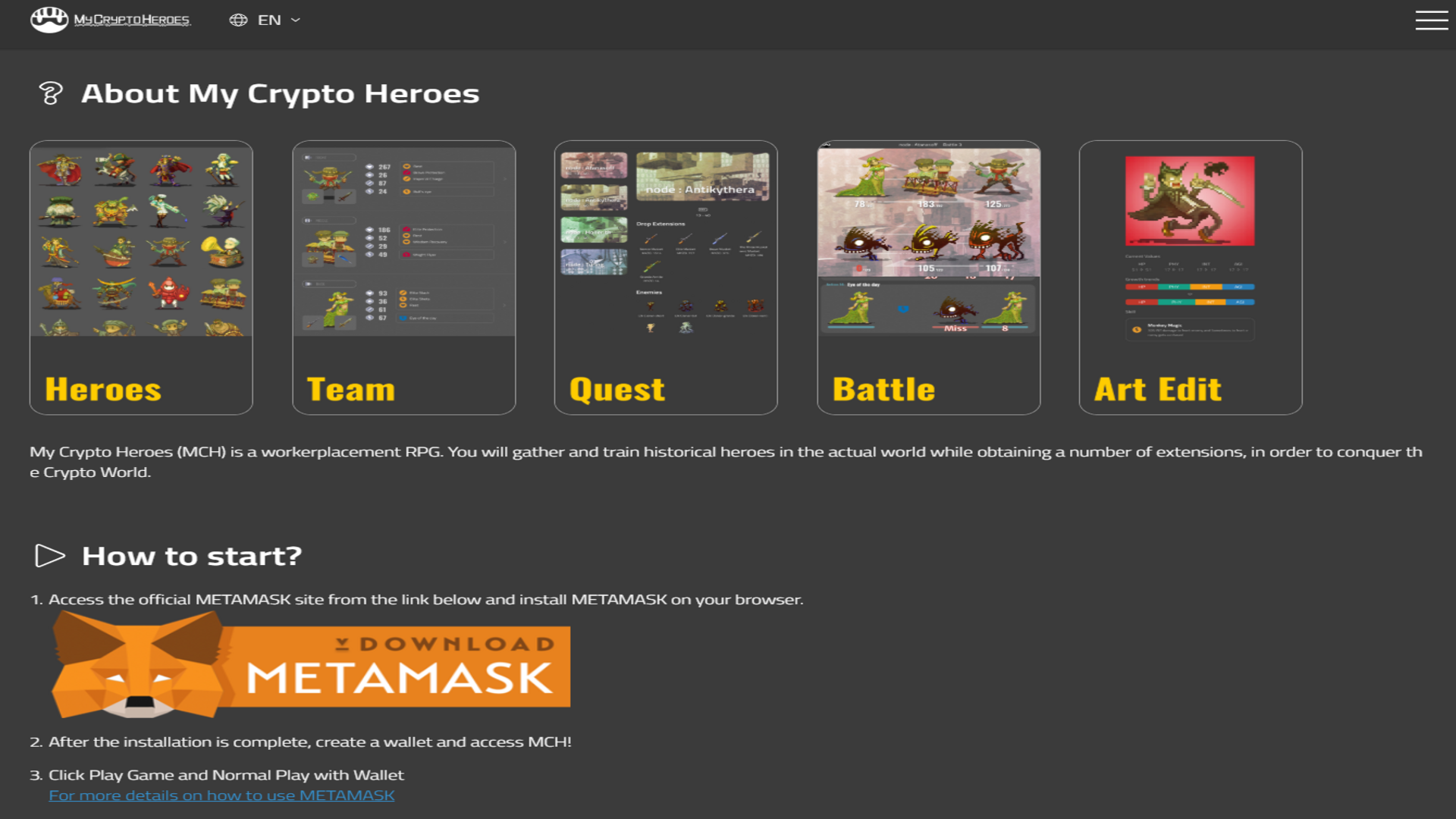 In PvE mode, you will be clearing dungeons where you can find rare items, while in PvP mode, you will be fighting with other players in special competitions using the strengths of your heroes. Also, My Crypto Heroes has a unique system called "Art Edit" that allows you to change the appearance of your characters.
Characters and weapons
Characters in My Crypto Heroes can be of five rarity types: ordinary, unusual, rare, epic, and legendary. Each rarity has a certain total possession limit. As for weapons, each character in My Crypto Heroes can equip two of them at once. They are needed to increase the power of the character.
Lands
Players can join one of the nine lands in the game by purchasing a particular sector. These lands act as factions with kings, lords, and ordinary citizens:
The lords are the owners of the lands. They profit from each recruited member.
Kings are the three players whose land ownership rate exceeds 10%.
Citizens are permanent members of lands.
Professions
Also, in addition to buying lands and participating in PvE and PvP in My Crypto Heroes, there are several professions you can learn. To be more precise, here they are:
Farmers – they can go on quests to find rare NFT items and sell them to earn Gum.
Warriors – they can fight in arenas and participate in tournaments.
Craftsmen – they can make hero skins and sell them on the market to earn Gum.
Merchants – they can buy items from the market and supply equipment to farmers and warriors.
Our team has played My Crypto Heroes, and we can say that we think this game is really good. It stands out from many other blockchain games because of its nice pixel graphics and addictive gameplay.